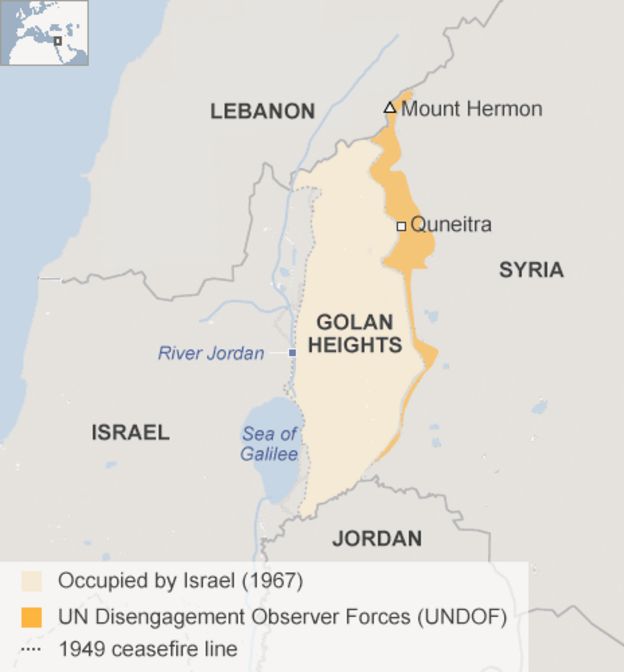 Löysin BBC-uutisista kartan Golanin alueesta- Joosefin esikoisen Manassen sukukunta-alue. Olin vuonna 1967 kuuden päivän sodan jälkeen kibbutsin järjestämällä matkalla myös Golanissa ja kävimme Kuneitrassa. Se onkin ainoa kerta, kun olen kiertänyt Golanin puolta, mutta sensijaan kummityttöni vanhemmat, jotka olivat siihan aikaan samassa kibbutsissa, menivät sinne kukkuloille asumaan ja istuttivat omenatarhoja. Tänä vuonna on Golanin alue joutunut aivan sotalinjaan pitkäaikaisen Syyriakriisin ja Isis-sultanaatin ym sotaherrojen intressipiirien takia niin että maailmanrauha jälleen on vaarassa. Erikoista on, että Iran on kerryttänyt joukkojaan aivan lähelle Israelin rajoja.
Shots fired towards Israeli communities in the Golan
"Around 12.10 in the morning there were some 20 projectiles fired towards communities in the Golan Heights fired by Iranian Revolutionary Guard Corp's elite Quds Force," the IDF stated.
Incoming rocket sirens were activated early Thursday morning in Israel's northern Golan Heights communities of Majdal Shams, Neve Ativ, Nimrod, Masa'ade, Buqa'ata, Odem, and El Rom.

The army would not comment on what exactly was fired from Syria towards Israel.

Following the strike local residents reported hearing loud booms and credited them to Israeli strikes in Syria and all roads near the Druze village of Masa'de were reported to have been closed to traffic.

The IDF would not comment on if or how the IDF responded other than stating that Iron Dome missiles were fired.

"This was an Iranian event was a significant event and it will not be tolerated," IDF Spokesman Brig.-Gen. Ronen Manelis stated, adding that there would be an IDF response.

On Tuesday night the military instructed local governments to open bomb shelters to residents of the Golan Heights following the identification of "abnormal movements of Iranian forces in Syria."

The army has raised preparedness of "troops for an attack" and deployed air defenses in the several locations in the north of the country.

The Jerusalem Post visited the area earlier on Wednesday and witnessed a heavy and visible police presence on the highways leading up to northern Israel and IDF vehicles blocking access to all roads north of Route 98 in the Golan Heights.

While some bomb shelters in the area were opened prior to Tuesday's announcement, the significant change witnessed by the military led to the decision that authorities open all bomb shelters and to inform residents of the increased tension in the area.


According to a pro-Syrian regime news outlet called al-Mayadeen, any further strikes will be met by "larger" attacks on Israel.